About us
If you are craving for Curry dishes, Biryani, Naan Breads and other spicy delicious Indian dishes, then your best choice is Delhi Diner. We are located at 7A Annalise ave, Epping VIC and we are available for delivery and pickup. We have our Tandoori Delights (Non-Veg) menu, which includes Tandoori Chicken, Chicken Tikka, Seekh Kebab, Tandoori Prawns and Murg Malai Tikka. If you love Chicken dishes, you can try our Butter Chicken, Chicken Tikka Masala, Punjabi Curry Chicken, Chicken Madras and Chicken Palak. Other Indian specialties include Chicken Biryani, Lamb Biryani, Tandoori Roti, Butter Naan, Fish Vindaloo and Prawn Masala. You can avail of our delivery and pickup services by clicking on our Order Online button.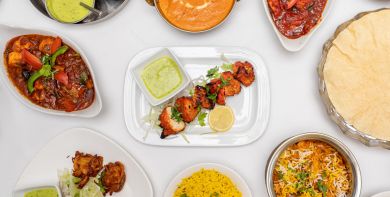 Reviews
54 reviews
Rajat
"Great food, as always. Will definitely recommend."
14/03/2020
ragnisharma
"Excellent service, great food"
25/01/2020
Rajesh
"good food"
15/12/2019
Menu
Lamb/ Goat Curry
Traditional home style lamb or goat cooked with onion and tomato and Indian spices
$13.99
Lamb/ Goat Palak
Lamb or goat cooked with Indian spices in blended spinach puree
$13.99
Lamb/ Goat Madras
Lamb or goat cooked with chillies, mustard seeds in coconut milk with hot Indian spices
$13.99
Lamb/ Goat Butter Masala
Lamb or goat cooked in creamy tangy gravy
$13.99
Lamb/ Goat Vindaloo
A delicious lamb or goat seasoned with vindaloo sauce, vinegar and hot Indian spices
$13.99
Lamb/ Goat Curry with Vegetables
Traditional home style lamb or goat cooked with onion and tomato and Indian spices and garden vegetables
$13.99
Lamb / Goat Rogan Josh
A popular lamb or goat curry cooked Kashmiri style
$13.99
Kadahi Lamb/ Goat
Lamb or goat cooked with capsicum and onions in tomato and onion gravy with Indian spices
$13.99
Rara Gosht
Slowly cooked lamb or goat with Indian aromatic spices and diced onions
$13.99
Lamb/ Goat Korma
Lamb or goat pieces cooked in Mughlai style cashew gravy
$13.99
Lamb/ Goat Saag
Lamb or goat cooked with Indian spices in blended mustard leaves and spinach puree
$13.99
Honey Chilli Cauliflower
Cauliflower coated with plain flour cooked in honey and sweet chilli sauce
$11.99
Vegetable Manchurian
Deep fried vegetable balls cooked in Indian and Chinese sauces
$11.99
Honey Chilli Chicken
Boneless chicken pieces coated with plain flour cooked in honey and sweet chilli sauce
$12.99
Cheese Chilli
Cottage cheese coated in plain flour cooked with capsicum and onions in Indian and Chinese sauce
$12.99
Honey Chilli Prawns
Deep fried prawns coated with plain flour cooked in honey and sweet chilli sauce
$14.99
Chilli Chicken
Boneless chicken pieces coated in plain flour cooked with capsicum and onions in Indian and Chinese sauce
$12.99
Samosa Chat
Crispy pastry stuffed with potatoes and peas served with chic peas
$7.99
Samosa - 2 Pieces
Crispy pastry stuffed with potatoes and peas
$5.99
Hara Bhara Kebab
Deep fried vegetarian delights combined of mashed potato, spinach and spices
$8.99
Paneer Pakora
Deep fried cottage cheese pieces coated in chic pea served with mint sauce
$8.99
Mix Pakora
Deep fried vegetables coated in chic pea flour served with mint sauce
$6.99
Paneer 65
Cottage cheese pieces coated and cooked in chef's special sauce
$11.99
Onion Bhaji
Deep fried onion rings coated with chic pea flour
$6.99
Fish Vindaloo
Fish seasoned with vindaloo sauce, vinegar and hot Indian spices
$14.99
Prawn Masala
Prawn cooked with onion, capsicum in onion and tomato gravy with Indian spices
$15.99
Fish Curry in Coconut Milk
Fish cooked in rich onion gravy in coconut cream and curry leaves
$14.99
Saag Prawn
Fish cooked with Indian spices in blended mustard leaves and spinach puree
$15.99
Gilafi Seekh Kebab
Lamb mince mixed with freshly grounded spices and chopped capsicum, onion and tomatoes
$11.99
Murg Malai Tikka
Roasted boneless chicken marinated in cashew, cheese, cream and Indian spices
$11.99
Tandoori Prawns
Prawns marinated in yoghurt and Indian spices
$15.99
Tandoori Chicken Full
Roasted whole chicken marinated in yoghurt and Indian spices
$15.99
Chicken Tikka
Roasted boneless chicken marinated in yoghurt and Indian spices with capsicum and onions
$10.99
Seekh Kebab
Lamb mince mixed with freshly grounded spices and chopped ginger and green chillies
$11.99
Tandoori Platter - Non Vegetarian
Combination of tandoori non vegetarian delights
$15.99
Tandoori Chicken Half
Roasted whole chicken marinated in yoghurt and Indian spices
$9.99
Malai Kofta
Soft dumplings made with cottage cheese and dry fruits cooked in cashew gravy and aromatic spices
$13.99
Palak Mushroom
Sliced mushroom pieces served in blended spinach with Indian spices
$12.99
Sarson Ka Saag
Mustard leaves mixed with blended spinach puree and Indian spices
$11.99
Dal Tadka
Yellow lentils cooked with tomato and onions with Indian spices
$11.99
Shahi Paneer
Cottage cheese cubes served in cashew, onion gravy with aromatic spices
$12.99
Punjabi Choley
Traditional North Indian chic pea curry cooked with tomato and onions with Indian spices
$11.99
Mix Vegetable
Fresh garden vegetables cooked with Indian spices
$11.99
Navratan Korma
An assortment of fresh garden vegetables cooked in mild creamy gravy with nuts
$12.99
Dal Makhni
All time favourite black lentils in Indian aromatic spices
$11.99
Paneer Bhurji
Mashed cottage cheese cooked with onion and tomato in Indian spices
$13.99
Aloo Palak
Diced potato pieces served in blended spinach puree with Indian spices
$11.99
Gobi Taka Tak
Cauliflower cooked with capsicum and onions with Indian spices
$11.99
Paneer Tikka Masala
An Indian delicacy of roasted cottage cheese pieces tossed in tangy creamy tomato gravy
$12.99
Aloo Baingan
Eggplant and potato cooked with Indian spices
$11.99
Kadahi Paneer
Cottage cheese cubes cooked with capsicum and onions in tomato and onion gravy with Indian spices
$12.99
Palak Paneer
Cottage cheese cubes served in blended spinach puree with Indian spices
$12.99
Mutter Paneer
Cottage cheese cubes cooked with peas in tomato and onion gravy with Indian spices
$12.99
Paneer Jalfrezi
Cottage cheese cubes cooked with capsicum and onion with tomato ketchup and chilli spices
$12.99
Mushroom Masala
Mushroom cooked with capsicum and onion cooked in tomato and onion gravy
$12.99
Baingan Bharta
Roasted and mashed eggplant cooked with onions and green peas with Indian spices
$10.99
Plain Naan Bread (2 Pieces)
Deal 3
1 x Any Seafood Curry, 2 x Plain Naan Bread
$16.00
Deal 2
1 x Any Non-Veg Curry, 2 x Plain Naan Bread
$14.99
Deal 1
1 x Any Veg Curry, 2 x Plain Naan Bread
$13.00
Chaat Papdi
Crispy pastry tossed with potatoes in sweet curd with tamarind and mint sauce
$6.99
Tandoori Pranthas - 2 Pieces
Stuffed wholemeal bread with choice of potato, cauliflower, paneer served with yoghurt
$8.99
Dahi Bhalle
Fried mashed lentils balls served with youghurt, tamarind sauce and mint sauce
$7.99
Pani Puri
Hollow balls of wheat semolina filled with potatoes and chicpeas and served with mint flavoured water
$6.99
Aloo Paneer Tikki Chat
Fried crispy potatoes and cottage cheese cutlet served with chic Peas and tamarind sauce
$7.99
Chole Bhature - 2 Pieces
Deep fried plain flour bread served with chic peas and onion salad
$8.99
Amritsari Kulcha - 2 Pieces
Naan bread stuffed with potatoes and Indian spices served with chic peas and onion salad
$8.99
Puri Chana - 4 Pieces
Deep fried wholemeal bread served with chic peas and onion salad
$8.99
Mushroom Tikka
Roasted mushrooms marinated in yoghurt and Indian spices with capsicum and onions
$10.99
Paneer Tikka
Roasted cottage cheese marinated in yoghurt and Indian spices with capsicum and onions
$11.99
Vegetable Seekh
Chopped vegetables mixed with mashed potatoes and Indian spices roasted in clay oven
$9.99
Tandoori Platter - Vegetarian
Combination of all tandoori vegetarian delights
$14.99
Chicken Pakora
Deep fried chicken coated in chic pea flour and Indian spices served with mint sauce
$12.99
Fish Amritsari
Deep fried fish coated in chic pea flour battered with Indian spices
$12.99
Chicken 65
Boneless chicken pieces coated and cooked in chef's special sauce
$12.99
Chicken Tikka Masala
Marinated and roasted chicken pieces cooked in creamy tangy gravy and Indian spices
$12.99
Methi Malai Chicken
Chicken curry cooked with fenugreek leaves and cream
$12.99
Achari Chicken
Chicken pieces cooked with onions and tomato with touch of pickle paste
$12.99
Chicken Palak
Chicken cooked with Indian spices in blended spinach puree
$12.99
Butter Chicken
All time favourite boneless chicken pieces cooked in creamy tangy gravy
$12.99
Chicken Vindaloo
A delicious chicken seasoned with vindaloo sauce, vinegar and hot Indian spices
$12.99
Chicken Jalfrezi
Chicken pieces cooked with capsicum and onion with tomato ketchup and chilli spices
$12.99
Lemon Chicken
Chicken pieces cooked with lemon, honey, ginger and stock
$12.99
Punjabi Curry Chicken
Chicken cooked with onion and tomato with freshly grounded spices
$12.99
Chicken Madras
Boneless chicken pieces cooked with chillies, mustard seeds in coconut milk with hot Indian spices
$12.99
Chicken Korma
Chicken pieces cooked in Mughlai style cashew gravy
$12.99
Kadahi Chicken
Chicken pieces cooked with capsicum and onions in tomato and onion gravy with Indian spices
$12.99
Contact us
Find Us
7A Annalise ave, Epping, 3076
We deliver to
3074 Thomastown, 3075 Lalor, 3076 Epping, 3082 Mill Park, 3750 Wollert, 3752 South Morang, 3754 Mernda